Our mission
To offer shelter, crisis intervention services and follow-up services to women victims of conjugal violence and their children.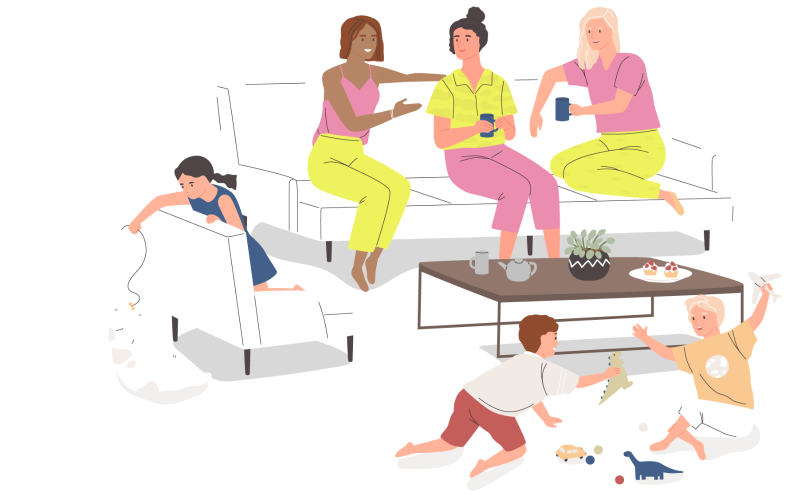 Our history
Following a request from an English-speaking woman, seeking help to leave her abusive relationship, the idea of creating the Marguerite de Champlain Pavilion began. Two weeks later, Ms. Pearson, the Director, received a second request for help, referred by people in the community who believed she could find resources.
At that time, there was already a center nearby. However, these people felt isolated, given that their ability to communicate in French was limited.
The current Director has researched the problem. She and two women met the social worker from Carrefour Pour Elle. They discovered that in 1982, 278 women and children had been turned away due to lack of space.
This was an indication that it was imperative to create a second shelter on the South Shore, which would meet the needs of people from both linguistic groups.
She asked for the assistance of people from Brossard, to support her in presenting a proposal, in order to obtain the necessary funds, for the establishment of another shelter in Montérégie. This request was submitted to the federal government for "Community Project Development". A government grant of $ 55,400 was awarded and the Pavillon Marguerite de Champlain was born on February 14, 1983.
We opened our doors on April 11, 1983.
Since its creation, the South Shore community has been of great help in maintaining the bilingual services provided at the Center. It is thanks to organizations, volunteers and community support that the Marguerite de Champlain Pavilion can continue to help women and children in crisis.
Our goals
To provide sheltering services, crisis intervention, individual, group and family services.




Information, services and references to other resources.

Offer external services in the form of individual and group follow-up for women and their children.

Work in collaboration with other agencies and community organizations for the well-being of our clients.

 
Our approach
Work with women to their strengths and regain control of their lives.

Encourage and respect residents' privacy and their ability to make their own decisions in relation to their situation.

We will encourage cooperation and transparency.

 
DONATIONS
If you wish to make a monetary or other donation, don't hesitate to contact us. Our residents always need different products, such as: food, clothes, underwear, stockings, pajamas, personal hygiene items, kitchen accessories, etc.
If you have any questions, please don't hesitate to contact us, it will be our pleasure to help you! Thank you!

450-656-1946